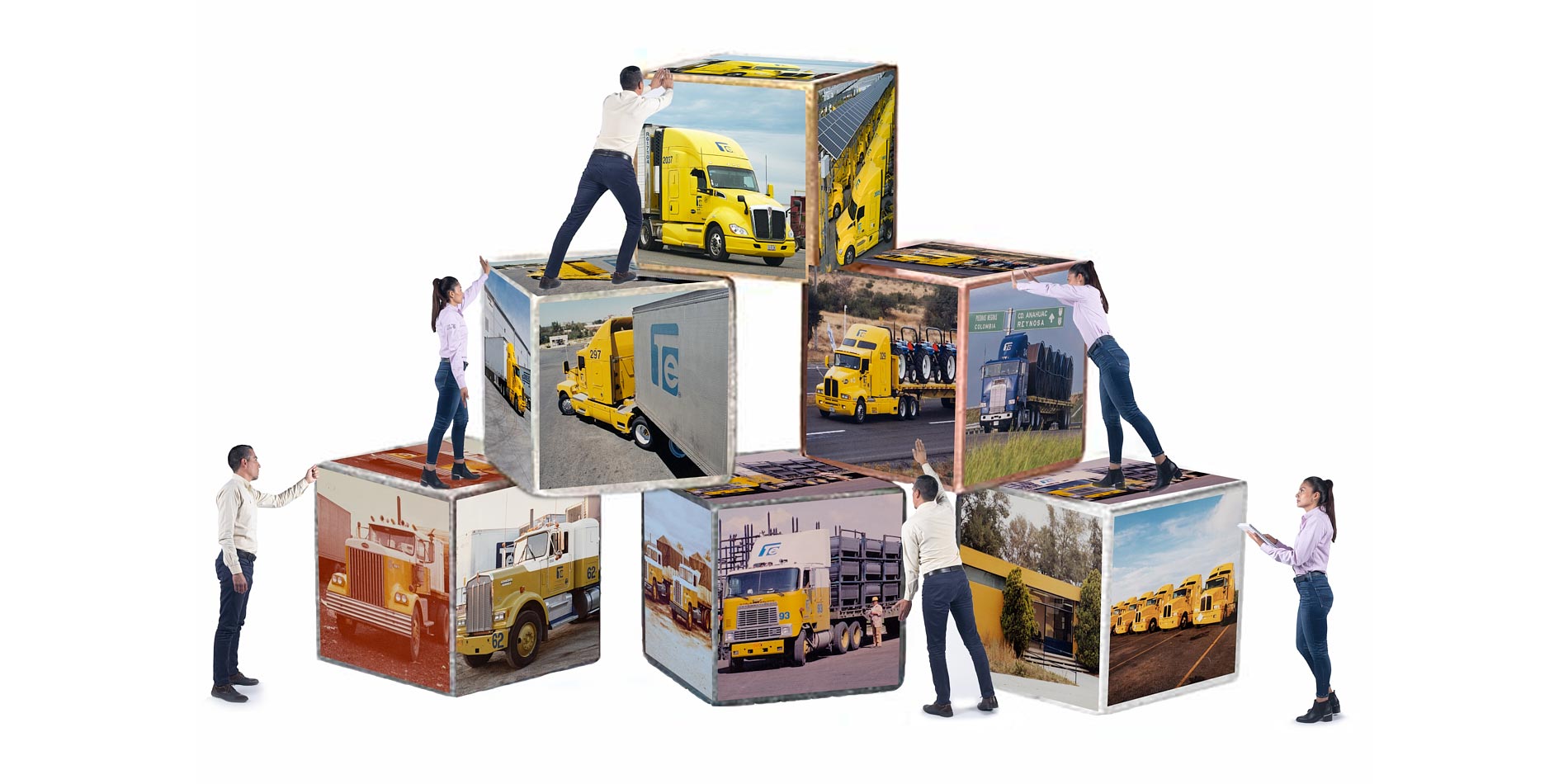 45 YEARS
Fulfill like no one else
History
Know the main events of Egoba's story.
1973
In 1973 the trucking industry was regulated by Mexican government. The Soto brothers (Alfonso Juan and Alejandro ) from Queretaro out of necessity to move their farm products to market bought the concession TRANSPORTES EGOBA from Efrain Gonzales Basaldua.
1976
In 1976 the TRANSPORTES EGOBA starts servicing industrial customers in the area with hoppers and flat beds.
1978
Two year later in 1978 the first dry vans are purchased to service more customers in the domestic market.
1985
Being raised in the agriculture markets in 1985 the acquire refrigerated units to move cargo from domestic and international markets with TRISA ( TRANSPORTED REFRIGERADOS INTERNACIONALES S.A. DE C.V. ).
1988
As avid and good visionaries in 1988 they acquire the rights to AUTO EXPRESS CENTRAL DE LINEAS along with another partner ( OPA ) to manage the international market through the port of Nuevo Laredo Tamaulipas and Laredo Texas.
1992
In 1992 the first phase of the corporate office opens in Queretaro, Queretaro Mexico with an extension of more than 100K square meters being one of the most modern in the trucking industry.
1993
In 1993 Egoba concentrates more on the international markets led by NAFTA and along with Kenworth Mexican designs a power unit with specific characteristics to meet the required service condition that was a turning point in the industry.
1994
In 1994 TRANSPORTE EGOBA and AUTO EXPRESS CENTRAL DE LINEAS merge and TRANSPORTADORA EGOBA S.A.DE C.V. is founded.
1995
In 1995 the Nuevo Laredo terminal is inaugurated being one of largest and most modern of its time.
1997
In 1997 top management creates a quality management system.
1998
In 1998 Transportadora Egoba is awarded the states quality award and the Nuevo Laredo terminal is expanded and remodeled to meet and comply with the growing international market demands.
1999
In 1999 Egoba obtained the certification of Quality Management System under ISO 9001 by the Mexican Institute of Standardization and Certification.
2001
In 2001 Egoba develops the STE ( operational system ).
2002
In 2002 the new terminal at San Luis Potosi begins operations to service our customer demands.
2005
In 2005 we open operational offices in Guadalajara, Monterrey and Saltillo to expand our customer base. Every terminal with its own drop yard and offices. Nuevo Laredo terminal builds its fuel station to service and control consumption of all northen terminals.
2007
In 2007 the US CBP (custom border protection ) certifies our security system under CTPAT regulations.
2008
2008 the scope of Egoba's Integral Quality and Safety Management System ( SIGCSE ) including service and terminals security is expanded.
2011
2011 Egoba is acquired by Fondo de Transporte Mexico which later became GRUPO TRAXION to which we proudly belong today.
2012
2012 we the SILAO opens up to expand our operational demands.
2013
2013 Egoba is awarded for the first time as Best Mexican Company for its high performance in business management. We are also recognized as an innovating company for the project CONTACT CENTER for our OTR drivers, an 800 line available to them 24/7 365 days.
2014
In 2014 again we are recognized by the Digital Service Project, where drivers can review travel status, settlements, vacations, loans etc.
2015
2015 we are certified by NEEC " New Certified Companies Scheme ", today known as OAS which meets a requirement of the Mexican Tax Administration System ( SAT ) for the security of the supply chain.
2016
Egoba designs and implements mobile APP ( REPOR-TE ) for drivers and dispatchers with related information of assigned loads.
2017
From 2013 to 2017 MEM ( Best Mexican Companies ) recognized Egoba with its high performance in business management thus awarding The Gold Category award in 2017.
2018
In 2018 the new Puebla terminal is open to service our expanding customer base. That same year after a market study and customer demands Egoba purchases Refrigerated Equipment to start and offer our existing and new customer base a new line of work.
2019
2019 we participate in the " Ranking Super Companies " of top companies . a leading global firm in the diagnosis and strengthening of organizational culture.
2020
2020 we are part of the Top 100 Super Companies by top companies.