MEDIA
Do you want to know more about us?
We invite you to review the information that has been published in several media.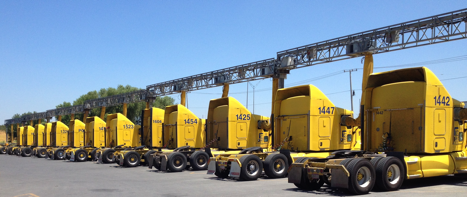 IdleAir Responds to Challenge of Lower Diesel Prices 2.
Published at The United States - Mexico Chamber of Commerce Summer 2015
Transportadora Egoba, S.A. De C.V. ("EGOBA"), a truckload carrier based in Queretaro Mexico, has completed construction of a new dedicated IdleAir facility at its terminal in Nuevo Laredo. The 18 space IdleAir facility is the first Phase of a larger deployment and provides drivers with in-cab services, including air conditioning, heat, internet connectivity, and 120V electricity, completely eliminating the need for idling.
At the new IdleAir facility, EGOBA is providing air conditioning and electricity at no cost to all company drivers and independent contractors. Reducing idling saves fuel and associated maintenance costs, and it provides drivers with a cleaner, quieter, more relaxing rest environment.
IdleAir developed a customized facility designed around the needs of EGOBA and its operation at their Nuevo Laredo terminal. EGOBA will receive a turnkey package of IdleAir services and support, and expects to achieve meaningful idling reductions estimated at more than 4,000 gallons per month, eliminating approximately 500 metric tons of carbon dioxide per year. EGOBA has five other similarly architected terminals in Mexico, each able to hold more than 190 tractors and trailers simultaneously. Each terminal has similar fuel and pollution savings potential as the Nuevo Laredo facility.